The Minor and Courses
Did you know that
Students who minor in Black studies develop an additional set of analytic and research tools that help them to understand human needs across race, gender, class, and national boundaries?
Or that,
The minor can be paired with many different majors at Providence College, including for example, global studies, economics, social work, sociology and political science? The combinations are endless, just use your imagination.
Minoring in Black Studies
Required credits- eighteen (18). Each student completes six (6) courses
Each student is required to complete Introduction to Black Studies
Five additional courses complete the minor. Students select the five electives from three thematic tracks. Each student completes one elective from each thematic track. The other two electives allow for and promote specialization within a particular track.
Thematic Tracks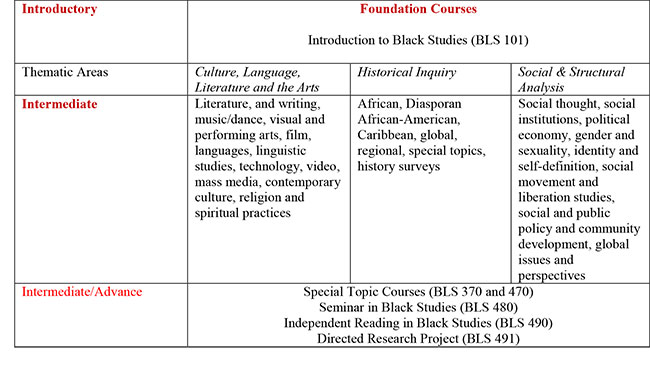 Black Studies and Core Proficiencies
To view the Black Studies courses that are approved for Core Curriculum credit, please click here.
Declaring a Minor
Download, print, and fill out an Academic Program Adjustment Form.
Make an appointment with the Director of Black Studies. Make sure to bring completed Academic Program Adjustment Form.
Turn completed and signed form to the Office of the Registrar, Harkins Hall, Room 310.
Courses and Additional Program Information
For a listing of course descriptions and degree requirements, please see the course catalog.
Click here or see below for the Black Studies Program pamphlet listing all of the BLS courses organized by Track.